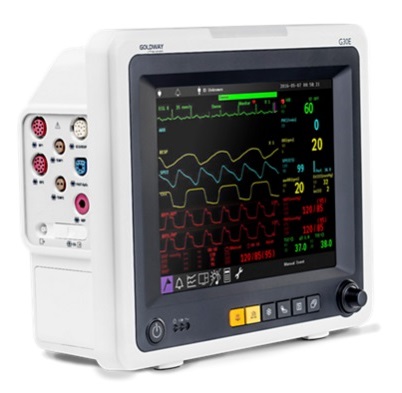 G-30E patient monitor
G30E Patient Monitor is the key choice of cost-effectiveness, it is easy to learn, it is preconfigured bedside monitor and it is the solution that provides reliable measurements including Philips ECG, ST/AR, and FAST-SpO2. It can easily be connected with Efficia CMS200, or can easily integrate with EMR/HIS directly by HL7 data output function. Due its lightweight design it can easily be mounted on a roll stand and thus makes it easy to move from bed to bed. It is also ideal for step-down departments and wards. It is fully compatible with Philips consumables. It forms a silent care environment by reducing alarm fatigue.
Features:
• Display - 10.4 Inch
• Arrhythmia – 21 Calls
• Pacemaker detection – Yes
• Method - Automatic oscillometric
• Parameters – MAP/SYS/DIA/Pulse Rate
• Operating mode – Auto/Manual/STAT
• Lead Type - 3-lead or 5-lead selectable
• Batteries - Rechargeable Li-Ion batteries
• Colorcoded numerics and waveforms LCD display(optional touch screen).