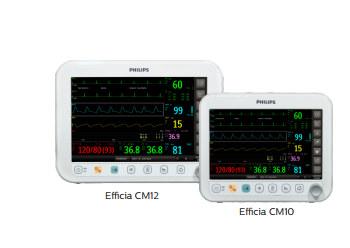 Efficia CM 10/12 Patient Monitor
Philips Efficia patient monitoring System comes into focus when budget and quality matters. Efficia CM 10/12 Patient Monitor is offered by Philips, in tune with your patient's needs. The Efficia CM 12 patient monitors helps to record, monitor, analyze multiple physiological parameters, for neonatal, paediatric, and adult patients. It is easy to connect with Philips Efficia Central Monitoring system, all you need to do is plug-and-play. Dual Invasive Pressure Selection is available, Capnography (Microstream or Mainstream) and Cardiac Output (it is available for Efficia CM12 only). Full disclosure data on board for a time period of 48 hours is optionally available. Accessories or supplies are common across all Efficia products, thus makes it very simple to make transfers from one place to another within your facility.
Features:
• Philips NBP
• IBP is optional
• Philips Fast SpO2
• Philips ST analysis
• ETCO2 is optional
• 10-12 inch display
• Trim knob controls
• ECG analog output
• Impedance respiration
• Night Mode is available
• Philips arrhythmia basic
• 2 USB Ports are available
• 3- & 5-lead ECG monitoring
• Cardiac Output (CO) is optional
• Weight is less than 5.0 kg (11.0 lb)
• Dashboard connectivity is available
• Patient Data to USB(.csv) is available
• Power consumption is less than 75 watts
• 2 x 3 or 9 cell battery (optional) and Detachable
• Alarms available: ON, Alarm, External Power, Error & Battery.